Orthotic Fabrication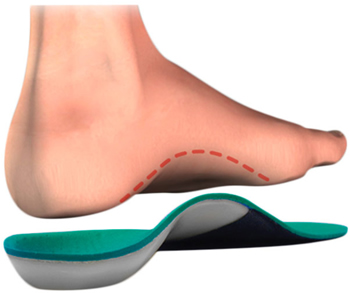 Custom Foot Orthotics are a very good, conservative options with a high success rate. Foot orthotics are custom-molded supports that control the way the foot functions, similar to the way glasses control the way the eyes function to allow the user to see better. Foot orthotics decrease stress to the painful area of the foot.
Custom orthotics are specially-made devices designed to support and comfort your feet. Prescription orthotics are crafted for you and no one else. They match the contours of your feet precisely and are designed for the way you move. Orthotics are only manufactured after a podiatrist has conducted a complete evaluation of your feet, ankles, and legs, so the orthotic can accommodate your unique foot structure and pathology.
Prescription orthotics are divided into two categories:
Functional orthotics are designed to control abnormal motion. They may be used to treat foot pain caused by abnormal motion; they can also be used to treat injuries such as shin splints or tendinitis. Functional orthotics are usually crafted of a semi-rigid material such as plastic or graphite.

Accommodative orthotics are softer and meant to provide additional cushioning and support. They can be used to treat diabetic foot ulcers, painful calluses on the bottom of the foot, and other uncomfortable conditions.
Orthotics and Biomechanics
Biomechanics is the science that deals with the study and treatment of problems caused by abnormal motion of the foot or other body part.
Orthotics are prescription devices worn within shoes and/or sandals. Orthotics control the function of the foot and lower extremity to eliminate abnormal function and stress that causes pain and deformity.
We offer a full range of orthotics to work with all types of shoes and activities:
Sports shoes
Casual shoes and sandals
Dress shoes and sandals
We are able to achieve rapid fabrication because of our in-office computerized CAD-CAM orthotics, scanning and milling process. Here the foot is scanned into a computer while held in a corrected position (where the foot will need to function to relieve the painful condition). Prescription software corrections are then made as necessary. This information is then transferred to the computer-milling machine, which produces the orthotic shell. It is hand modified and finished to produce a perfect-fitting prescription device, designed to correct the faulty foot function and relieve foot pain.
Conditions treated by orthotics include:
Heel pain: plantar fasciitis, heel spurs syndrome
Neuroma: pinched, swollen nerve in the ball of the foot
Capsulitis: pain beneath the metatarsal bones in the ball of the foot
Pain and arthritis of the great toe joint
Sesamoiditis: pain associated with the small bones beneath the ball of the foot near the base of the great toe
Tendonitis of the foot or ankle
Shin Splints
Runner's knee
Some gait-related hip and low back pains